Almost one month ago I bought some really expensive milk for my husband. It is local milk (at least from our state), and it is always difficult to find as well as more expensive than the rest. From the moment it entered our house, it was undrinkable, according to my hub. I have made pancakes with it, and they were really yummy. Finally yesterday I found a recipe for bread machine white bread that called for sour milk. My first attempt was mildly successful, so I tried again today. The crumb is more like cake than bread, but it is good and easy. After 3 hours and 50 minutes there is warm bread, and spread with soft, salted butter, it is better than cake! Here is the recipe:
Sour Milk Bread – Two Pound Loaf (Cookin in de Keuken)

1 ½ cups sour milk (regular milk works fine too)
4 cups bread flour
1 ¼ teaspoon salt
4 Tablespoons sugar
1 ½ Tablespoons oil (optional)
1 ¾ teaspoons yeast
Follow the instructions that came with your bread machine in terms of which ingredients to put in the bread machine first. Make sure you check on the dough after five or ten minutes of kneading. Just pop the top of the bread machine and see how the dough is doing. It should be a smooth, round ball. If it's too dry add liquid a tablespoon at a time until it looks OK. If it looks too wet, add flour a tablespoon at a time until it looks OK.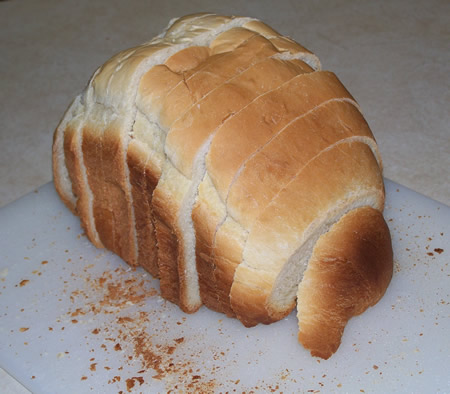 Thanks www.breadmachinediva.com.